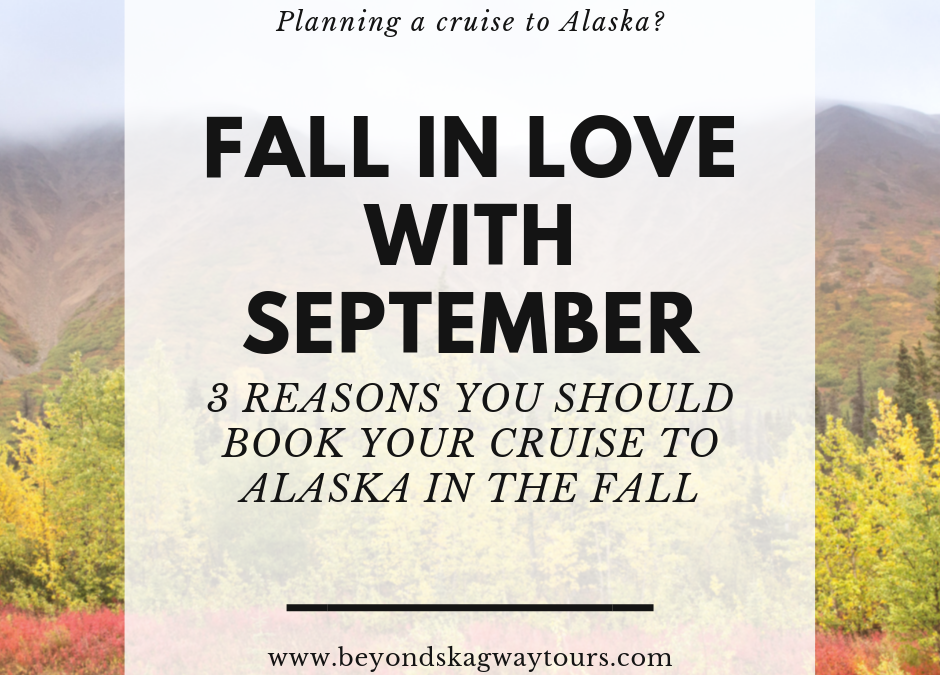 Now that we are settling into mid September, we are finally able to slow down as the busy cruise ship season winds down. Another summer has come and gone. The seasons have shifted. Fall breathes fresh perspective and ruminant feelings. With the seasons change I am drawn to cozy sweaters, hot lattes, and blueberry picking in the mountains with good company. I'm also inspired to share some of the reasons to love September in Alaska, and encourage you to book your cruise to visit our beautiful little town of Skagway Alaska in the fall! So here are our three top reasons you should consider booking your 2020 cruise in September.
In our minds, the best reason to book your cruise to Alaska its the dramatic decrease in crowd sizes, which makes this our number one reason to book in the fall. Alaska's peak season is in June, July, and August, simply because school is out and families have the time and ability to take their whole family vacation. During the peak season you will see full ships, and over crowded ports. During peak season it can be tough to break free of the crowds. The shoulder seasons as we call it, is in the months of May and September. These two months still offer beautiful scenery, but you know what's missing? The maddening crowds! Back to school means you'll be much more likely to book your preferred excursion. During peak season in Skagway, many of the best local tour operators are booked solid on full port days. Which means, if you don't book early, you're not as likely get your #1 tour choice, and just plain lucky if you do. Shopping in the shoulder seasons is also so much more enjoyable. You can browse shops in peace, get much more personal attention from shop owner and clerks and find deals on exactly what you've been looking for. So whether you're a nature lover who wants to hike free from the crowd, a shopper, or an adventure tour enthusiast, September is the month for you!
Discounts. Everyone, well at least everyone I know, loves to stretch their dime. Vacations, especially Alaskan cruises can come with a hefty price tag. For many people this trip is on top their bucket list and they save for years to make it a once in a life time experience. However, you don't have to pay top dollar when you book your cruise on the shoulder season. Cruise ship rates across the board are cheaper (and I just have to reiterate, they are also way less crowded!) when you book in September. By roughly mid September Local shops in each port have begun to discount items. Shop owners are looking to clear their inventory for next season, so they mark down prices to make those sales, allowing you to shop guilt free. Another important aspect of your trip to Alaska is the many and varied shore excursion choices. These experiences are well worth the price tag even in peak season. However, booking in September means you may be able to haggle a discount! From personal experience I know that if you are booking with a local tour company and ask for a late season discount, may just be lucky enough to get one (but don't get mad at me if you don't, I can only speak from my experience)! Since cruise ships are less crowded, the local tour operators are going to be hungry for you business! Most of these companies only operate in the summer, so they are very motivated to fill their tours and finish the season with a gusto. So go ahead, buy that locally handmade necklace, buy the kids some stuffed animals and books, bring home those mementos that will spark joy in your heart, book that tour you've been reading about, and make those once in a life time memories in Alaska!
This is our most obvious reason to visit Skagway in the Fall. The gorgeous fall colors completely transform the landscape blanketing the mountain sides with golden. As you travel up white pass into the alpine terrain you'll see more reds, yellows, oranges, and even deep purple colors painted across the already gorgeous landscapes. The earthy smell of decaying leaves, low hanging morning fog, and the cool crisp air give that quintessential fall feeling. If your visiting from Florida, or anywhere where summer summer heat lasts into October, the refreshing air and cozy jacket weather is the perfect break from the heat!
If school constraints make it near impossible for some people to travel in the fall booking as close to the shoulder season as possible my still offer some of the above benefits to your cruising experience. However, if you have the freedom to book anytime through the cruise season you absolutely consider booking your cruise to see Alaska in the fall season!